Top 5 undiscovered classic Thrash Albums!
2 min read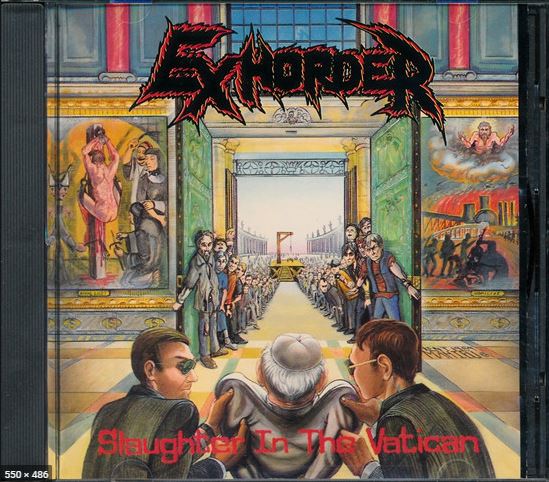 Nowadays we have a flood of great metal music from all over the world and it is hard to catch up with all the bands. But this happened to a certain degree also in the 80s and 90s. The second and third wave of Thrash metal bands coming after the pioneers like Slayer, Metallica, Kreator,…. oftenly had trouble getting recognized or got pushed into the shadows by the emerging Death metal wave and Black metal gaining strength over the globe.
Here are our Top 5 undiscovered classic Thrash metal Albums!
5. Paradox – Heresy
I have to admit, I almost forgot about Paradox myself. Listening to it now some decades later it is almost a perfect Thrash Album, simply lacking some really outstanding attribute to bring it out to shine. Still a definitely underrated Album of that time.
4. Demolition Hammer – Tortured existence
This outstandin Album is vastly underrated. Being onthe more aggressive edge of thrash metal it definitely gets you pumped up. I remember holding the CD the first time in my hand and non-stop listening to it on my way to school (get pumped up for the shit).
3. Incubus – Beyond the Unknown
Being almost on the Death side of metal, this smashing Album never got the attention it deserves! Classic strong guitar solos, sometimes comparable to the early work of Pestilence and a more complex songwriting are to be discovered.
2. Heathen – Hypnotized
I never understoon why Heathen never really made it out of the shadows to be enshrined alongside the big names in thrash metal. Their tune is rather on the melodic side incorporating powerful riffs and beautiful melodies. I won`t ever be able to forget any song on this Album I lsitened to mostly in a thoughtful mood. A true Antidepressant! The band is still active and chunking out new material.
Exhorder – Slaughter in the vatican
Definitely my number 1! This beautiful piece of thrash, the debut Album of Exhorder, inspired my deep disrespect towards life and boosted my confidence in pure desecration of values! Brutal rhythmic riffs tear all internal peace apart! Exhorder dissolved at some point but is now reunited and they published new material.
About Post Author