GIG REVIEW: Kreator, Jinjer and Eluveitie at Summer Hell in Budapest, Hungary
4 min read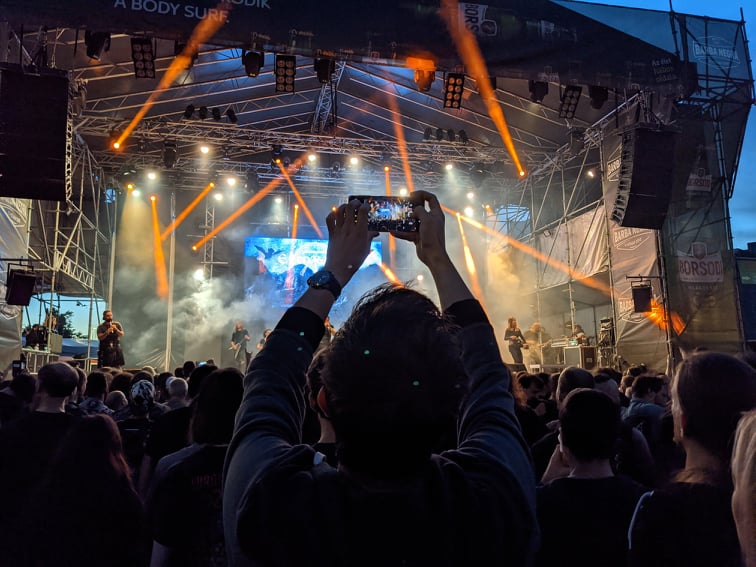 A miraculous night of metal, mayhem and music legends – that's what it felt like on Wednesday the 17th of August in Budapest as three freaking-amazing acts graced the stage at the iconic Barba Negra to put on a metal show that's long been overdue.
Where do we begin? Although the concert went under the name "Summer Hell," we think that's a misnomer – because it was Sumer Heaven! Whilst the gates opened at 5 pm, droves of Hungarian metalheads – plus yours truly (an Aussie) and Mike from Metalphetamine (a German) – began this celebratory night of metal much, much earlier. No one should have to wait a year to see a metal gig, and all of us were just chomping at the bit and waiting to get in. Suffice to say, the atmosphere was insane. In a sea of black t-shirts and band patches, the agenda of the night was quite clear: lots of beer and lots of hard, heavy, in-your-face-music.
And man, the mood kept up all night.
It wouldn't be controversial to claim that most of the punters here were waiting to see German thrash metal legends Kreator slay the stage, and Jinjer and Eluveitie did an amazing job keeping the intensity of the crowd up at 11. That was on the main stage. Over on the other smaller stage inside, three Hungarian bands – The Hellfreaks, Nova Prospect and thrash metal veterans Remorse – absolutely killed it!
It may have been more than 18 months since these bands were able to perform here in Budapest, but the wheels of the pit didn't need too much greasing at all. In fact, starting with the first band on the bill – the Ukrainian four-piece Jinjer – the pit was well and truly in gear, and man was it a glorious sight to behold! I really need to check out Ukraine now and see just where these guys get their energy from. This energy continued until their last track, "Vortex," which absolutely set the circle pit on fire!
After Jinjer on the main stage was Swiss folk metal outfit Eluveitie who rocked it. You got to hand it to this band: you wouldn't think that metal and flutes go together, but oh, they do! It was my first time hearing these guys live and I loved the musical textures they wove on that stage. What an eclectic array of instruments (bag pipes, a lute) and personalities in that band. And oh, I think the women in that band are the hottest in metal, period!
The venue itself was amazing too. Just off the beautiful Danube a stone's throw from downtown Budapest, this open-air live music venue is THE place to come to see the best rock/metal in Budapest. I got to admit, it was my first time at Barba Negra (I had a few shows that were meant to be played there before the pandemic, e.g., Taake, which got cancelled), and I was surprised to learn that, unlike at other venues, the beer was actually quite affordable! You don't normally expect beer to be 600ft at a festival/gig, so myself and Mike were pleasantly surprised!
And the sound system was on-point. I'd been craving some loud music since this whole god-damn pandemic began, and the audio engineers did an impeccable job in rattling my eardrums to an appropriately metal level. Pyromaniacs would have been happy too, with Kreator literally igniting the stage with the beastly beats. Seeing flames shoot to the sky when they played "Extreme Aggression" and "Violet Revolution" is something I'll never forget – you could even feel the heat from those bad boys about 10 rows into the pit!
The only criticism I had of the night, and this may have more to do with regulations, is that Kreator only played for an hour. I expected a longer set, especially from the likes of a band that literally have over a dozen albums. So I was a little disappointed when the concert finished at 10 pm. Still, it was four hours of music so I cannot really complain!
I really want to thank H-Music Hungary for all their amazing work in putting on this epic show, as well as Barba Negra for once again being awesome. Please go on their Facebook page and give them some love, and tell all your mates about them. It's because of them that metal stays alive!
And of course, spread that love like a sailor at port to the amazing bands that brought the metal back to Budapest: Jinjer, Eluveitie and the legendary Kreator – yep they've still got it! And the local talent: The Hellfreaks, Nova Prospect and Remorse – new fan here!
Before you go, here's an awesome gallery (photos and videos) to show you what you missed!
About Post Author