From "Tormentor" to "Husky", Stefan Hüskens in the name of METAL
21 min read
"Tormentor" is Stefan and also he´s "Husky", one of those persons that you really want to know in the Metal business.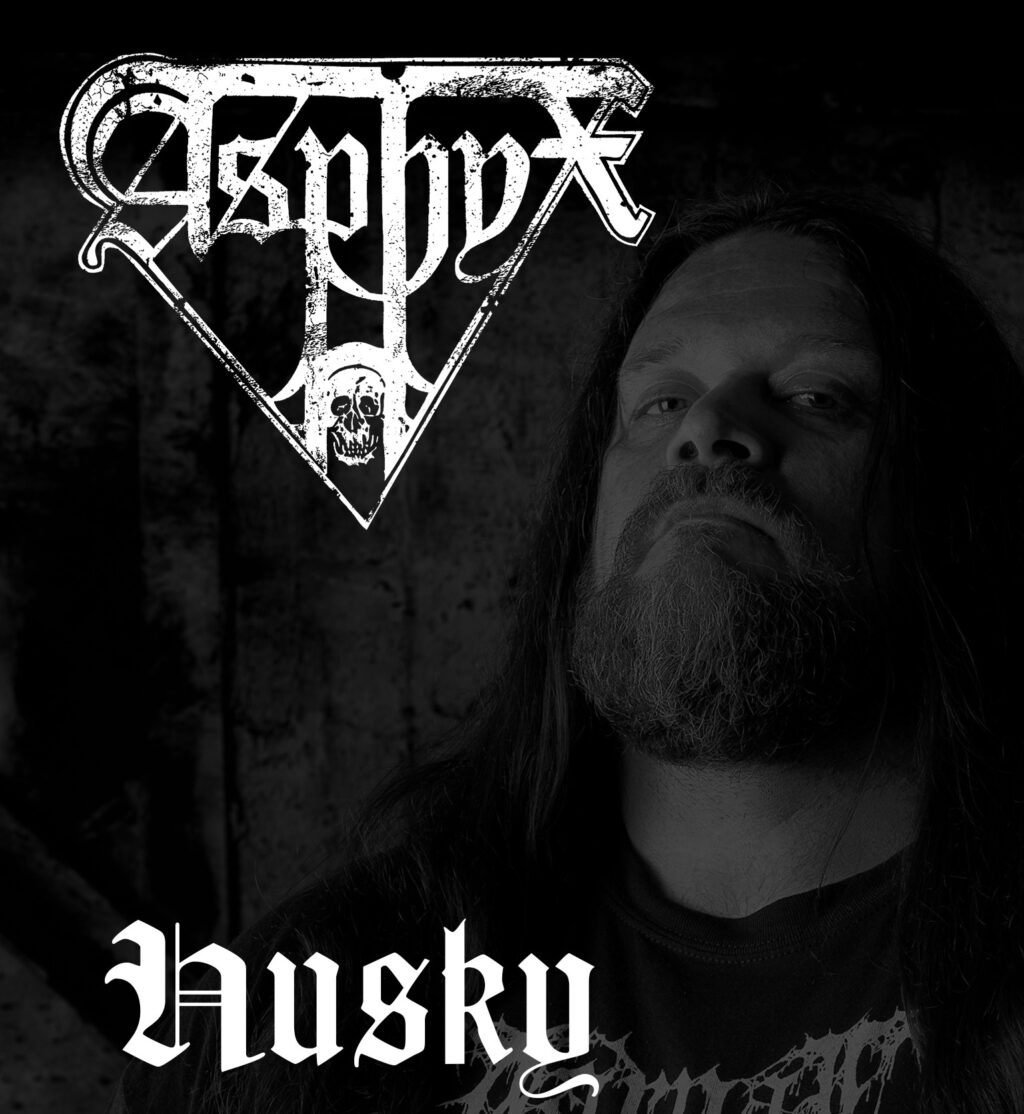 When Stefan said "YES, SURE" to our call, because we wanted to talk about many stuff, we told him that we really want to know the person behind the stage, now is time to enjoy this talk, and for those who never had the chance to talk with "Husky" you will know a very kind and humble person and also very funny and friendly, with a great sense of humor. At the same time, we talked about some complex issues, very seriously, like working these days, with pandemic stuff around us, stupid people here and there.
Please read this detailed interview (or check the entire interview on our YouTube Channel) and you´ll enjoy as much as we did, talking with "Tormentor"
We are checking a lot of your music with ASPHYX, but we know that you have some other projects. How about the last one?
Yes, I have many projects, I have first that band is actually it's an older band from the area where I live now, the band is called ROTTEN CASKET, a mini-CD will come out soon and full length will follow this year, some years ago the lineup was with four Dutch guys and my friend Frank (Berges), who is playing guitar and, since I moved to April two years ago to the place where I live now, we decided to re-animate the band again and then we have new members it's Martin Van Drunen and vocals, Yorck Segatz on guitars and a bass player called Patrick Van Der Beek, from a Dutch band called DISABUSE.
Wow you have a great an amazing Death-Metal band…and singer!
Yes let's see, it's a bit of course it's a bit difficult to as fix it's more like a bit ENTOMBED Death-Metal with some crust parts and stuff, so bit punky sometimes that's the music what I like at the moment, and then I have my other Death-Metal band CARNAL GHOUL, I recorded already kind of bull record and but we are waiting there because the singer of the band is quite sick so we have to wait if he can go back to normal or not, there's also a bit more Swedish Death-Metal bands with guys from the band MILKING THE GOATMACHINE from Germany, they go with goat masks on stage and stuff so it's more bit funny stuff, and then I'm preparing recordings for TRINITAS, which is my Black-Metal project with Vargher (Guitars, NAGLFAR/BEWITCHED), at the moment that's all, haha, I tried to keep me busy, I cannot do so much work at the moment so I bought a house with my wife and I also built the extra rehearsal room for myself, in the cellar, so I can start practicing all the shit I have to learn, haha, I was renovating my house you know so I was quite busy and was also all the promotion for the new ASPHYX album, took a lot of time I only made like 15 interviews or something but Martin I think he did like 400 or something worldwide, haha.
The release of "NECROCEROS", your last album was in last January and it was an awesome show. How was the feeling to do that without the crowd?
The funny thing was, until after the third song everything was like normal show you know because intro started we went on stage the lights everywhere you couldn't see the audience, but after that when we stopped after the first three songs and there was no reaction from the other side, it was a strange bit but on the other hand it was kind of a little bit going back to normal, entering the when you build up the backline and rehearsing and stuff so that was nice but it was not easy to not react from outside you know yet only our crew was streaming but it was like two or three guys, haha and the thing is you cannot look in the face of the guys you know you don't know if they liked it or not you know yeah you see it live you see that guys are screaming so they enjoy it but when there's no one it's not easy.
So, you didn't have any chance to show the new material with crowd?
No, that was the first time, at the moment we are preparing shows in Germany in July but it's kind of corona-proof shows, with a seated audience, we did three times now, first I was in a church that was fine, but the third and the second one was at the end, with people standing up staying on their places, it´s not easy at the moment.
I think this year it will be the same, maybe next year we will have live concerts ¿What do you think about this?
I'm working for a booking agency in Germany and every day is a change, especially I only can speak for Germany, I don't know how it's in other European countries, but now it's like ups and downs on one side and they open the schools now, on the other hand, the numbers are going up again, so now they're thinking of closing the schools again, so that means for us that to play shows or to organize shows becomes later in the year and that's a really big problem, but we are working on a couple of shows from July to September, but this shows with a corona approved distance whatever blah blah blah show, I think they will enjoy it because they miss this life situation and if they have to sit it's better for them instead of having no shows.
Will you be doing any more of your live stream shows in the foreseeable future or no?
When Pandemia started, we directly said "no we don't stream anything, let us go writing the album, finish this", but when it comes to the release show we said, "okay it's like we do it on every album like that, we do a release show so that you said yeah you want to do that", normally this year is direct "The Rack 30 anniversary".
You used to be like a great fan of a SODOM and ASPHYX when you when you were young?
SODOM and ASPHYX still are my fav bands, when I started listening to harder music all my friends around me preferred like SLAYER and KREATOR and I was in SODOM and ASPHYX, I don't know why but there were my two bands, I also have the most records next to the bands where I play, but it was a stroke of good luck that I have, that I could play in the band (SODOM) or I'm still playing in the band (ASPHYX).
It must be awesome actually to be part of it. I remember when I heard Martin's voice for the first time it was on PESTILENCE "Consuming Impulse", I was so blown away by that and I followed ASPHYX all the time it's one of my all-time favorite bands.
Martin told me a nice story when they recorded "The Rack" at Harrow's Studios, he started screaming and the engineer went into the recording room and checked the mic, haha. The really good thing is that he is not the youngest anymore, but his voice is still very hard, it's the same with Tom Angelripper from SODOM, he can still sing very harsh and very hard, that's you see that they are working a lot with their voices, I know from Martin that he's practicing every day, he has an old gas mask and he has the earplugs and then he wears the gas mask and his singing in it, so that nobody in the room can hear, I'm not sure if I can't tell everything that I would say but okay hopefully you want the peak of that, haha.
How did you get into those big bands like ASPHYX and SODOM?
ASPHYX was I got received a call from Alvin because I knew him a bit longer than the other guys, and he told me that Bob had to wants to leave the band and but they would like to go on so they told me you asked me "do you want to move into Bob's steps" and I said, "yeah, of course, I will, but I don't want to be that guy who replaced him or something, because I'm a big fan and I want to have Bob in the band and not me" you know, but after that, Bob told me that I am the only guy he would give the sticks to, so I'm still in good friendship with Bob, we meet like once or twice a month drinking coffee talking about old times and stuff and changing records and everything so it's a really good vibe also with the old members.
And with SODOM that was a bit more strange, because the band is also in the booking agency where I work, so I receive every news one day earlier before it goes online and I received a message from their booker that Tom kicked out Makka and Bernemann, so I called him and asked "hey what's going on there" and he said "yeah, big problems", then I told him "if you need help until you have a new drummer I can't step in, if you have to play any shows or something", and then after a while he told me that he want me for permanent drummer, of course I was happy but I told him that ASPHYX will be ever still my number one and I need two Saturdays a month for ASPHYX and the rest is for SODOM, but at the end after two years we figured out that it's not possible, because the other three guys in SODOM they really live from the band money and I'm not, because I work with the booking agency, so they wanted me to play as much as possible and I told them after a while yeah but there is a show in there and I can't change that because with ASPHYX you only can play Saturday, because the other guys in the band except Martin, they have also their regular jobs so that's biggest problem, that I had to leave SODOM.
Those two big bands it's too much. Did you get offers for live gigs for both bands for the same concert or the same festival?
It happened three times we played in Hamburg SODOM headliner ASPHYX co-headlining and then I had one festival it's called "Way of Darkness" in Germany I had to play on Friday with DESASTER and on Saturday with ASPHYX and SODOM so I was there we've got three times free beer haha, that's a story but from the power side it was okay to play two shows, but at the end, it's a bit not easy to switch, because ASPHYX is a total power show you put all the power in pounding and SODOM is a bit you know faster and a lot of long songs and it was not easy for me to switch sometimes, with ASPHYX I can play blind, when I hear a mistake or when I do mistake, it takes two seconds and we are in again, but SODOM it was a bit different because the songs are too fast and stuff.
The drumming styles are very different between the two bands, and it's also in ASPHYX you can be a bit sloppy, and nobody feels it, but when you have timing problems in s SODOM directly the people are counting the mistakes haha.
How is it to learn all the songs of all the bands?
Actually, I learned around 60 or 50 songs in those two years because we only took a few songs from each album you know and since (Frank) Blackfire is back in the band we didn't play so many songs from the latest albums, more from "Agent Orange"  and "Persecution Mania" and stuff, so and these are the records I grew up with, so it was much easier for me to learn those songs instead of just ones, and also I couldn't play the drumming from Makka, I told Tom I can play my own way because Makka is a better drummer and I'm a bit limited in my drumming, so I can do what I can play, and I can very good but when it comes to more technical stuff I'm not the right person and I'm too lazy to learn new stuff haha.
Do you see an evolution in the drumming between the first albums and the latest albums?
Of course it's a I think that's in every band that especially when the band starts as kids and grow up with the music, you have this evolution in every album, when I started in DESASTER my drumming was really extremely limited and I learned over the years everything, so the last album with DESASTER I think it was, from the technical side, a good album and that was the same with SODOM, Witchhunter, from the first records until he left, he became better and better, so I think that's the normal thing nowadays, it's a bit different because most of the guys already played in 10.000 different other bands and they know what to do, so mostly the first record is a directly a really good one and nowadays everybody knows how a recording studio works, when I entered the recording studio first time in 1985 the engineer told me "play a groove" I said "what was that" haha, I also didn't know how much microphones he needed for the drum kit, I had no idea I just went there and we said okay we are recording a demo tape no I have no idea what I have to do, and nowadays you know everything you can do it at home, so every demo band has a good sound and they are good on their instruments and that in the beginning, it was not the same, it was different.
I think in the early 90s the feeling was more intense because people were more into the music, I don't know how to explain that, but it was more feeling behind it, nowadays it's like okay we're doing a record "yeah give me five minutes I have to download the right program" and that's it, in the early times you had to check out where you put the microphone in the middle of the room when you have the best sound to hear everything, so I prefer that time a bit more because I never was like really into technical music or stuff, for example, my favorite drummers are Abaddon from VENOM or Bob from ASPHYX and stuff because they're playing with heart and power instead.
Right, it changed a lot. Do you have discovered recently any new bands which you really like?
Oh yeah, I'm not sure if this is new but I think there's a band called NUCLEAR from Chile, I really like, and there are a lot of bands especially in Germany, you have all these smaller Death-Metal bands which I really like, for example, DEMONBREED there are so much cool bands, but I will think about that there will be more names falling later.
How many times did you play in South America?
I think it was like seven or eight times there, I was for the first time in 2000 with DESASTER, then we played after three more tours later, then I was with ASPHYX for a South American tour was only three Brazilian shows, and with SODOM we played Costa Rica, but my favorite country in that part of the world is really Brazil because I like to coast area and some of my favorite bands are from there, like KRISIUM, SEPULTURA, and MUTILATOR, so there's always good fun there. The longest South American tour was with DESASTER, we had 28 flights in 14 days, it was like after the show shower and then to the airport and then you saw the band going on their seats and then five seconds all sleep. Whenever I come back to South America the first thing at the airport I say is "meat me" haha.
Besides music do you have any other hobbies that you like to do?
I'm a records collector, that's a lot and since I am married now for two years and we have two kids so that's also kind of part of a hobby now, and the cost of my life is really only music because for example this work at the booking agency when it is normal and not like these days, it is not like going eight hours to work you know at the end you are sitting in front of the mobile and checking all five minutes emails and stuff so at the end more or less it's 24 hours metal. So I can do a little bit of backyard work but in the end, all my friends listen to metal so even if they come over for a beer or something, there are only discussions about music or so.
How old were you when you got into metal and when did you start playing drums?
I started listening to metal around 1988 and I started playing drums in 1995, between that I had a fanzine in Germany, it was a mixture of hardcore punk and metal because they had also some friends who helped me and stuff, so in 95 I started playing drums with my first band GRAY FORM and then in 96 I had to help out a DESASTER for some shows and after that, I stepped in.
Can you play any other instrument?
No, give me a guitar and I have no idea what I can do, maybe I can apply triangle or something but that's the only instrument, haha.
Did you know when you listen to metal that you wanted to be the drummer?
No, there was a guy in school who told me he needed a drummer in his band and he told me like "you have to do that" and I said "ehhhhh" and then I was sitting behind a very small drum kit and started hitting it, and then right after that the old DESASTER drummer asked me to help him to build up the drums on some shows as a roadie, and then I started playing and then one thing comes to another, I met some other guys and he said "yeah we do a band okay, do you want to play drums", and then it was more a natural way to get it like I never had like "oh I have to play drums", it was just coming. I never had a teacher or something I just learned by myself listening to records and try to copy some things, maybe I have my own style because I never had a teacher, then what I play is what I have in my mind, and even if that it's counting wise wrong, there's one funny thing when I started in SODOM I had played one fill which I play in every other band you know and Blackfire told me that this fill is wrong, it's not on point, I said yeah but I played for 25 years, now he said "yeah but it's wrong", and then we put the metronome on it, and then it was technically wrong.
Sometimes it´s difficult with the timing in aspects like some songs, I think about "Death: The Only Immortal" for example when it goes slower and slower and then you have lots of changes of speed. Is it difficult for you to play?
The funny thing is when I do that with another guitar player I think it would be difficult, but I and Paul understand each other so well, it takes seconds to understand how fast he needs me, sometimes, for example, in those doom songs the timing is always different on every show because sometimes you have a like a little bit aggression in you, then it goes a bit harder and sometimes you feel relaxed and it goes slower, you're talking about seconds hundreds of seconds, but with Paul, it's easy everything, with other guitarists sometimes you have to say that I follow the guitar, normally it's the other way around, normally the guitar has to follow the drums, but it's awesome and in ASPHYX I was always throwing the guitar so that makes for me easier to find the right feeling and timing.
Do you feel any difference between the recording process of the first your first album with ASPHYX than the last one?
The recording by itself was actually no big difference because mostly it's like that Paul comes up with an idea then we are collecting all these ideas then we put them together into a song and this all happens with emails because ASPHYX is a very rehearsal lazy band, we only rehearse like four times a year or something so then when we have to just the ground of the song then we go to the recording studio or the rehearsal studio and we put the songs together and then we record them, so the recording process on both albums are more or less the same, but afterward, the mixing was different because  Sebastian used a different style of mixing than on the new record, and I wasn't so happy with the sound on the "Incoming Death" so and now the new record is amazing.
How do you write the drum parts? Do you have an idea in your head, or do you play something you like the sound of it, and you explore?
it's mostly the main rhythm Paul brings the riff and tells me "okay you can play that kind of rhythm to it", but at the end everything that comes in between every part and sometimes also the way how to play the drums is different and I do by myself, but mostly it's like the ground of this of the song is Paul who is giving me the first step to play though into that kind of riff.
Who writes the lyrics in ASPHYX?
That's a hundred percent, Martin, so he reads a lot of books and everything, he tries to put in lyrics so sometimes it's really funny stuff sometimes really sad stuff.
He's full-time ASPHYX, he doesn't have another job? How about the other guys in the band?
No, Martin is living 100 from the music he's still earning some money from the PESTILENCE records and Germany's gamer, Alvin is working in an office they are planning big machines for other companies so he's working all the time at the computer so and Paul is a teacher it's a school from one to five years, I think.
How do you manage the whole situation like is there any foreseeable concert again is there anything on the horizon?
I think everything comes up and falls with the vaccine, that's the most important thing right now, in Germany, they also try now to open reopen the smaller shops with this test where you have to wait like 30 minutes to 50 minutes and then the test, it tells you if you are positive or negative, but at the end, I think that without the vaccine you will not be able to go to festivals or shows whatever again in Germany, I don't know how other countries will handle that but you know you will have like a pass or an app or something where you can show and then you can go in.
Do you know something about European summer festivals, like Metaldays?
At the moment I only know that all the other festivals we are announced they with every month they postponed to 22 so also Metaldays will not happen, you know my boss is in a in a kind of internet community with all the other bigger festivals in Germany and for example Wacken is still thinking they will happen also Summer Breeze but to be honest, I don't think so be because it takes too long that with all the vaccine stuff in Germany so my hope is that we can start with this corona proof shows in July maybe, and then maybe some open-air shows also still on the corona special thing in September and maybe November or December we can talk about again with all the shows and that's only what I think and some other guys are really later in 2022, but nobody knows what will happen and that's the biggest problem for all the booking and also the whole music scene that you cannot plan there's no light at the end of the tunnel it's nothing what you can say okay we keep calm until February 22 and then we go on tour.
The most important question: is your wife a metalhead?
Yes, she is, that's, by the way, a funny story because I was at a festival we both were wearing the same shirt and it was ROTTEN CASKET the band where I am now in and they had a fresh shirt out at this time and it was only me and her who bought it, and we met on the festival.
A true love story awesome, it was meant to be.
That is also one of the kids is listening to metal but more modern she likes JINJER and KATAKLYSM and stuff, the younger one, she's more into Mariah Carey and so, sometimes when you see me driving through the city, I have some Mariah Carey on my in my car but it's not me, haha, my kids are fourteen and sixteen years old.
it's just normally it's like when the kids are young and they listen to that kind of music that they go later to the right music, there's a funny story from a German punk band called TOXO PLASMA the singer of that band has a recording studio in Germany where we recorded all the DESASTER stuff and once, it was years ago, he had a small kid like two or three years and I went up to his apartment and I saw all, there were like a police car, a police hat, a police gun, a police motorbike for kids everything, and I told him "hey come on you're a punk and then you give your kids all that shit? but remember whatever they do now they hate that later" haha.
Do your kids love to see you playing?
Actually, they're all like ASPHYX by the way, SODOM wasn't there, because it's also they know the other three guys a lot, for example, Martin is at our place like every two weeks so they know each other and then, of course, they are proud when they see that the singer is the guy who was two weeks ago at our place, is called singer in ASPHYX so they are "I know him" they like the music and also they like how we are on stage.
What was the best is the best gig you ever played for?
In the end, I like every show, I don't care if I play in a small pub in front of 20 people or on the big stage in front of 20.000 people if the feeling is good sometimes smaller shows are much better than the bigger shows, of course, all shows in South America are a bit crazier than Europe for example, and totally went wild and that's great when we went to Brazil the first time after the show with DESASTER we told each other "hey come on that was like the old SLAYER videos we watched from the 80s people are flying around each other and fights and everything was chaos", but that was cool.
Are there any bands that you would really want to meet?
The thing is whenever you meet your idols mostly you are a bit afterward disappointed "what an idiot" so I have one, I would really like to meet DEE SNEIDER, I think he's a really cool viewer but for example, I like WASP for example, but Blackie Lawless is a stupid idiot, also like Jon Schaffer from ICED EARTH what happened last time I like him as a guitar player, I don´t know why because at the end they are only big because of us (the fans) they are only well known because we bought their records, but why they have to have a behavior like idiots so I don't understand, they can do it with those managers or whatever you can do with that, but not with the fans, so now I'm happy with those guys I already met and especially all those guys in the Death-Metal really much more like a brotherhood than in those heavy metal scene you know so I'm happy with that and at the end, I met most of all people I wanted to mention of course you everybody wants to meet James Hetfield for example haha.
Follow STEFAN "HUSKY" HÜSKENS in his bands:
https://www.instagram.com/tormentor_drumphyx
ASPHYX: https://www.asphyx.nl
https://www.facebook.com/officialasphyx/
ROTTEN CASKET: https://rottencasket.bandcamp.com
https://www.facebook.com/RottenCasketDeathMetal/
CARNAL GHOUL: https://www.facebook.com/CarnalGhoulOfficial
TRINITAS: https://www.facebook.com/trinitasblackmetal
About Post Author