Michael Czerwoniuk from British black metallers Wode on the upcoming album, the creative process & why vinyl (still) rules…
10 min read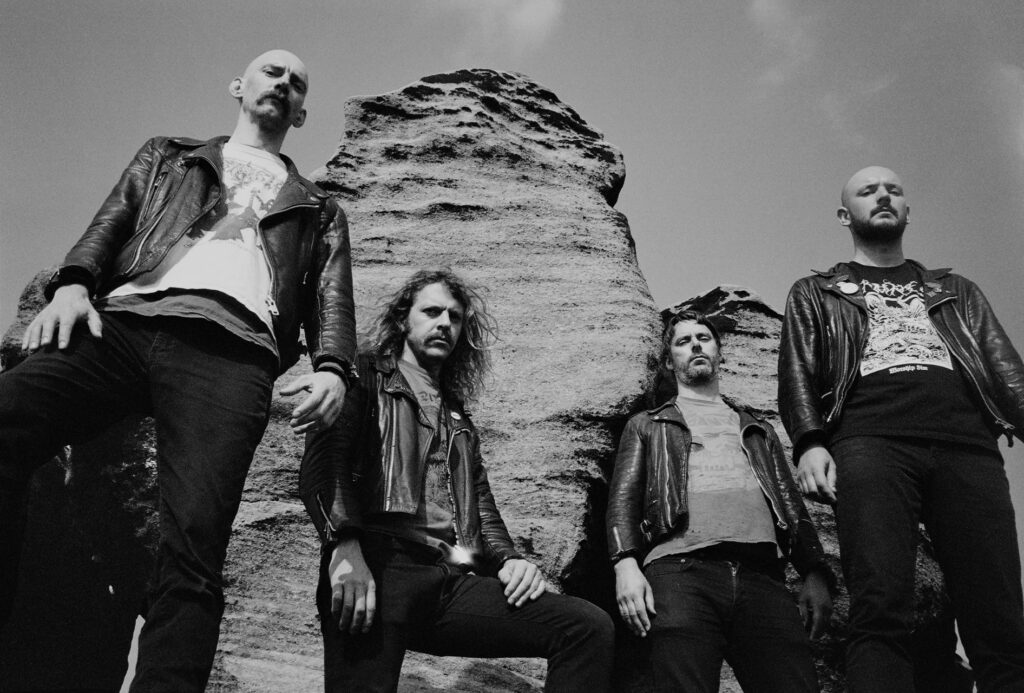 There's gotta be something in the water in Manchester. Or maybe it's in the air, wafting through this post-industrial city before sedimenting in the creative psyches of these boisterous Northerners and finally reaching our ears as some of the most incredible music in the world.
Raw, hard-hitting and often sitting on the heavier end of the musical spectrum, this city continues to produce some of the best bands in recent decades. And although metal isn't a genre you'd usually associate with this city, unsurprisingly, Manchester is metal AF – you just need to know where to look.
We recently got the chance to shoot the shit with Michael Czerwoniuk, vocalist and guitarist of one of the UK's most exciting black metal bands, Wode, who – surprise, surprise – hail from Manchester.
We talk about their latest album, about what it was like growing up in Manchester and the band's earliest influences, their creative process and how they sculpt their sound, dealing with COVID, as well as their plans to hit the road when touring is (finally) a thing, again.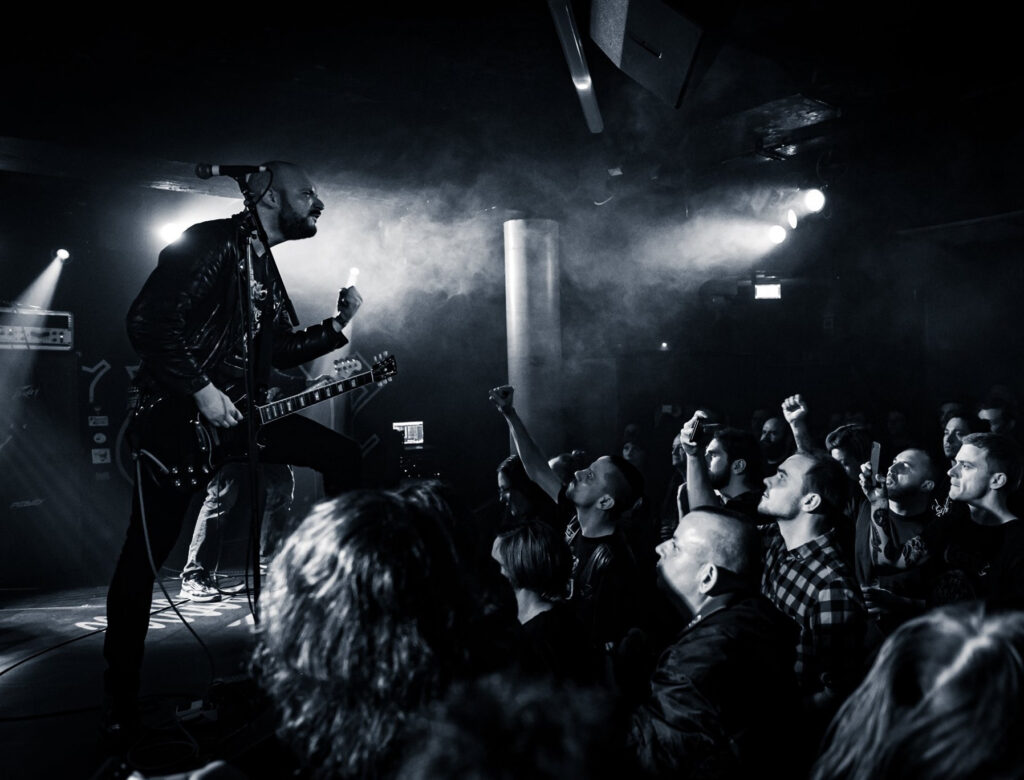 What was it like growing up in Manchester? You guys have such a vibrant music scene over there. I've also heard you have a really supportive metal scene too. Can you tell me about it?
Manchester is a grimy, often rain-soaked, post-industrial city but there has always been good access to record stores and live music which is obviously very important when you're growing up. There's certainly a deep musical history here but surprisingly very little in terms of any notable metal. There is, however, a small but dedicated group of underground metal bands who have emerged in the past few years.


How did you guys first get involved in music? And how did you end up getting into metal?

Hearing punk bands like Black Flag and Discharge made me first want to pick up an instrument as a teenager. The big turning point for me was hearing Black Sabbath not long after – the originators and best band to ever do it – which then led to an interest in more extreme forms of metal. I think it's probably a similar story for the other members of the band.
Was there a band or event that inspired you guys to take music seriously?
Not really. Making music is a creative outlet for us, it's something that's always present no matter what we're doing. Playing in bands that release albums and tour means we dedicate more time to it, but I think we'd take it just as seriously if there was nobody else listening.

What bands or musicians have fundamentally inspired you? Are they still doing that today and/or do you have any current inspirations (doesn't just have to be music)?
Too many to name, but off the top of my head: Black Sabbath, Slayer, Paradise Lost, Celtic Frost, Bathory, Amebix, Black Hole, Necromantia, Katharsis and Mercyful Fate are all a constant source of inspiration. I'd also name Voivod, a band that has been around for 40 years and are still releasing albums that are as good as anything they've done in the past. Non-musical inspiration can come from daily life; your environment, something you read, a conversation etc. I try to always be receptive to any inspiration that comes my way.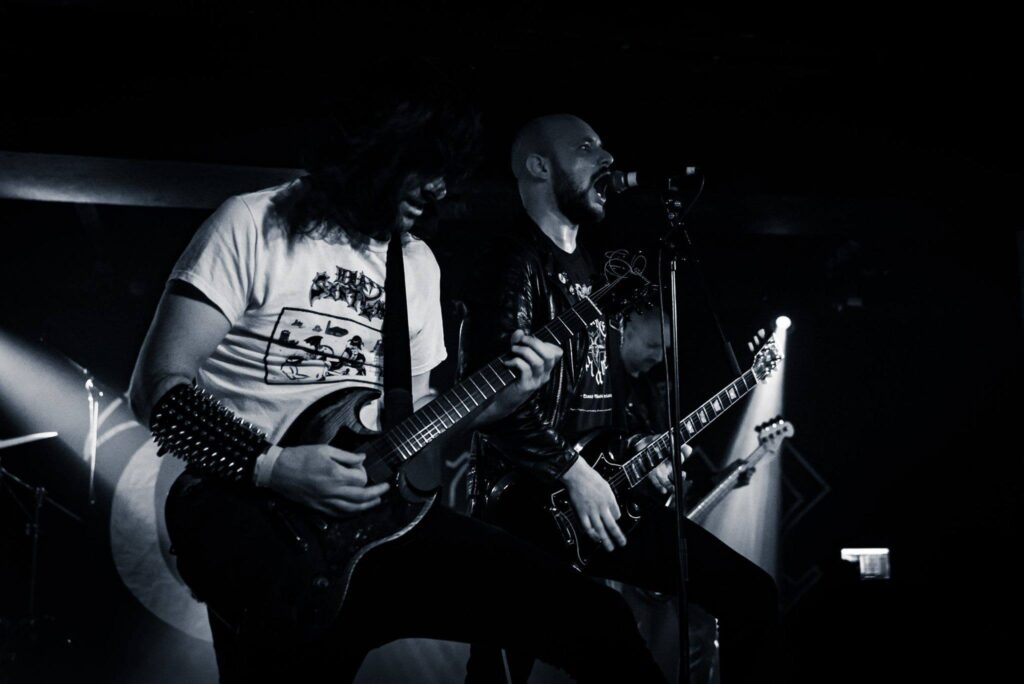 It's often been said that your music is reminiscent of early 90s Norwegian black metal. How did you develop your unique sound?
We don't think too much about wanting to emulate other bands when we're writing a song. It's done more in a state of flow where we're thinking about how we can take a song in a direction that excites us rather than consciously wanting to add a part that sounds like a specific band. I think those similarities become apparent a bit later on and are probably more a case of our influences coming through subconsciously. Listening back to this new album now, for example, I'd say it's more reminiscent of first wave black metal, early death metal, heavy metal and death/doom than Norwegian black metal.

Tell me about your creative process. How do you turn ideas into music? Where do you draw your lyrical inspiration?
It usually starts with a riff or fragment of a song which one of us will bring into the rehearsal room. We work on the arrangement together and come up with new parts either on the fly or at home after listening back. Once we have a structure, then ideas for leads and solos, vocal patterns and other elements like synths and keys will emerge. We're quite restless when writing and always want the music to take unexpected turns and not repeat what we've done previously.
Lyrical themes come later and are usually shaped by the mood of the music. For 'Burn in Many Mirrors' most of the lyrical inspiration comes from mythological tales of descent into the underworld, the visions of William Blake, religious eschatology, weird fiction/horror and folklore. When writing for an album the idea is to take all of these lyrical influences and combine them to create a world which the music inhabits.
Making music is a creative outlet for us, it's something that's always present no matter what we're doing… I think we'd take it just as seriously if there was nobody else listening.
Your third album, Burn in Many Mirrors, is set to be released in April this year. When was the material written for this album? What does this album mean to you?
The first song 'Sulphuric Glow' was written in early 2018 and the final song 'Streams of Rapture' was finished shortly before entering the studio in March 2020. I think it's the most fully realised thing we've done both musically and thematically and certainly the album we are most proud of.

A lot of your fans prefer vinyl over digital downloads and CDs. Are you guys personally also fans of the big V? What is it about this format that attracts you?
I think vinyl is the best format for an album in terms of the ritual aspect of placing the needle down, the size of the artwork and having a clearly defined A side and B side. However, I think it should be remembered that vinyl is just one format and not the be all and end all. We make sure that all of our albums are available on LP, CD, tape & digitally as ultimately we want people to be able to hear the music on whatever format they choose.

When was the last time you played live? Are you itching to get back on tour? What do you miss most about live shows?
Our last live performances with Wode were on a short UK run with Taake in December 2019 and it's been around a year since I've played a gig of any kind. Playing these songs together, the connection with an audience, the filth and fury, the travel, the sleepless nights – I miss it all. Of course we want to be back out there as soon as possible.
Wode, your self-titled first album release back in 2016, was around 48 minutes long. Servants of the Countercosmos, your second LP, clocks in at around 31 minutes. And your upcoming release is around 40 minutes long. And yet all albums feature precisely six tracks. Surely this isn't a coincidence! What exactly is going on here?!
When writing for an album there comes a point when we feel that there is a complete statement there – a body of work. This is more important than feeling a need to hit a certain amount of tracks or even a total running time. The three sixes are quite apt, for obvious reasons, and it's something we're well aware of but it was never really a conscious decision.


Can you tell us about the recording, mixing and mastering of this album? How has that been different on this latest release compared to your other albums?
The album was recorded and mixed by Joe Clayton at Nø Studio. We recorded 'Servants of the Countercosmos' there as well as some other projects, so it's a place we know well and we have great confidence in Joe's ability to make things sound the way they should. The mastering for this one was handled by Magnus Lindberg (Morbus Chron, Tribulation) who did a great job too.
The main difference with the recording this time was that UK lockdown restrictions came into force after our first week in the studio, which meant we had to postpone the second part of recording for a few months. In a way I think this benefitted the album, as we were able to listen closely to what we had recorded and use that time to really hone some of the parts and come up with some new ideas as well.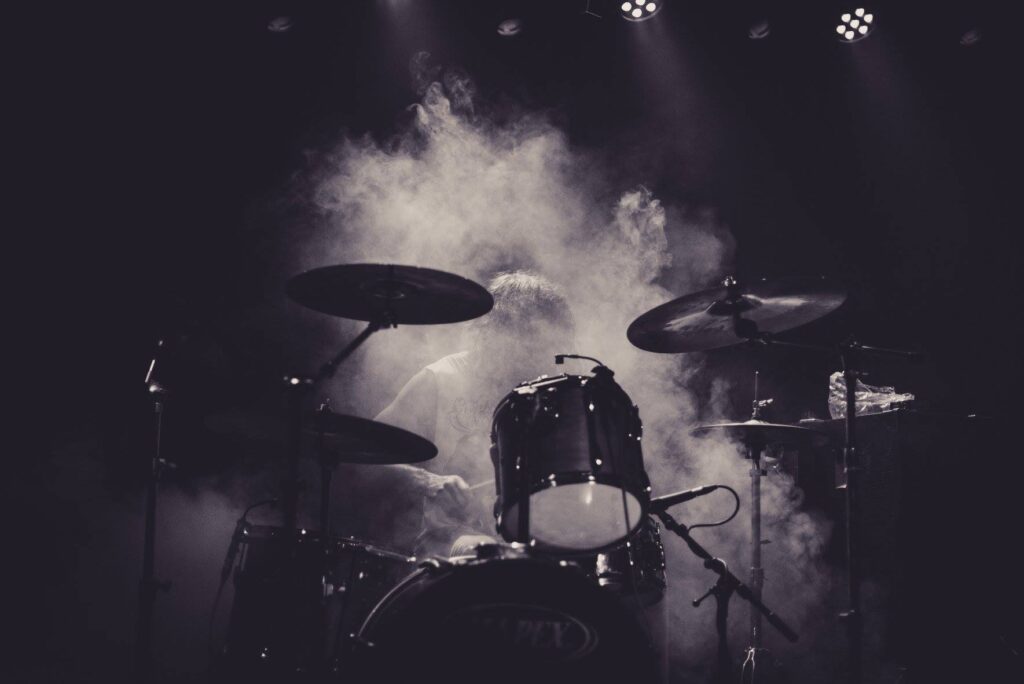 What was it like the first time you played outside the UK? Any update on when you'll be back on the road? Any festivals on the horizon? Any favourite countries?
Our first European tour in 2017 went great considering we didn't really know what to expect. We played some good gigs to some really responsive crowds and subsequent tours have been even better. We have tentative plans for some dates later this year/early next year but I guess we'll have to wait and see how things unfold with travelling etc. As for favourite countries; we've always enjoyed playing gigs in Germany and Belgium.


Are there any bands you'd absolutely love to tour with? Any bands you've had the pleasure of touring with that you'd like to give a little shout-out to?
We've supported some great bands on tour in the past like Wolves in the Throne Room, Mgła & Taake, as well as playing some great headline tours of our own and with friends like Bast & Loth – all of which seem like distant memories after the last year we've all had. We're looking forward to getting back on the road as soon as the time comes.


The artwork for your latest release was done by Argentinean artist Santiago Caruso. Can you tell us how you guys started working together?
We approached Santiago as we were fans of his cover for StarGazer's 'A Merging to the Boundless' as well as his other work. We felt his style would work well with the mood and themes of the album. After a few conversations we left him with the lyrics to the album and he began painting based on his interpretation of them. Our main input was to have the cover be split into three paintings – a triptych – as that was something that mirrored some of the themes from the record. The end result perfectly captured the essence of 'Burn in Many Mirrors'. Santiago created an incredible back cover painting for the album as well.
When writing for an album there comes a point when we feel that there is a complete statement there – a body of work. This is more important than feeling a need to hit a certain amount of tracks or even a total running time.

What are you guys currently working on? How have you handled the last 12 months? Surely COVID has disrupted your plans…
We dedicated most of the last year to recording the album and then all the work that needs doing in the aftermath, so thankfully there wasn't too much disruption with Wode. Three members of Wode play in Aggressive Perfector who had to cancel some tours and festivals due to the pandemic, but we've used that time to start writing for the next album. Two members also play in Heavy Sentence who were able to record their first album last year and it'll be released in May. Writing for the next Wode album should begin soon too. The work always continues even if we're unable to play live or meet up as often as we'd like.
What do you guys like to do when you're not making music?
Listening to other music, reading, watching films, hiking, camping – nothing too unusual really. I do illustration and layouts for my friends' bands too.


Do you have any advice for upcoming bands?
Put the time in and take it seriously and don't be too swayed by trends that are happening now. I'd also advise new bands to try and release their music physically – even if it's just on tape or CDr – as I think that's still important.
And finally, anything to say to your fans?
Thanks to those who have supported us so far and thank you for the interview.
The new album 'Burn in Many Mirrors' is out on 2nd April via 20 Buck Spin.
Wode is:
M. Czerwoniuk – Vocals, Guitar & Synths

T. Horrocks – Drums, Guitar & Keys

E. Troup – Bass Guitar 

D. Shaw – Guitar & Backing Vocals
On behalf of all of us at Metalphetamine, we'd love to express our gratitude to Wode for taking the time to talk to us. During this particularly hard time, show your support to the band by following them on Facebook and Instagram, streaming their music on Spotify, and buying their merchandise.
About Post Author